A biweekly timesheet is a worksheet that is used to calculate the work period of the employee in the period of two weeks. This sheet is very convenient to be used for employees as well as employers since it allows both to keep track of the work they have done.
Who can use the biweekly timesheet?
The biweekly timesheet is basically for those employees who are paid on an hourly basis. For the employees who are salaried every month, the biweekly timesheet tells the predetermined income of two weeks. Furthermore, the salaried person also finds the biweekly timesheet to be convenient when they want to get paid for overtime work.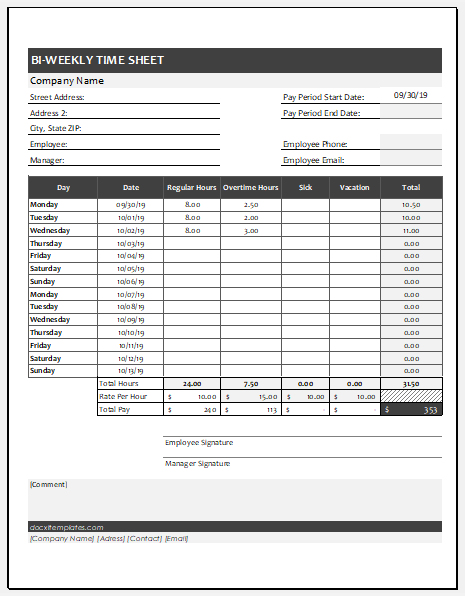 Download
[For Excel: xlsx & Polaris Office] [Size: 8.0 KB]
OTHER OPTIONS
Download
[OpenDocument Spreadsheet .ods] [Size: 30 KB]
---
Many people find it to be very tedious to perform time tracking in order to determine how many hours they have worked and how much they need to be paid. However, the use of the biweekly timesheet has made it very easy to track the time.
The biweekly timesheet can be downloaded in MS Excel, PDF, and in MS Word format. In order to use this timesheet effectively, you are required to fill in the empty fields with the correct details. Some organizations also have an automated system that enables them to do time tracking without filling any spreadsheet.
It is very beneficial to use the automated system of tracking because it gives more accurate results. However, not everyone can afford the automated system. Most people have to rely on the biweekly timesheet that is required to be used manually.
How does a biweekly timesheet work?
A biweekly timesheet template allows the user to track the number of hours an employee has worked. With the help of this information, it becomes very easy for the employer to calculate the amount to be paid to the employee.
The biweekly timesheet also tells how many projects an employee is working on. It is also seen how quickly the employee completes the assigned work and what amount he should be paid.
In order to make use of a biweekly timesheet, the user is required to provide some details to it. The main details that are provided are
Names of the employee
Number of hours the employee spends at work each day
Number of hours spent by an employee in overtime
Amount to be paid to employee per hour
Biweekly timesheet template
The biweekly timesheet template makes it easy for people to track the work done by the employee in the period of two weeks regardless of the format. These templates have been designed with increased expertise which has managed to save a lot of time for the person using them.
The processing of the payroll based on information provided is also done quickly and accurately using the biweekly timesheet template. Furthermore, the user can also convert it into a weekly or monthly timesheet.