When you want to control your body parameters, you can use the body measurement and weight tracker. With the help of this tracker, you can set the goals of your body parameters, and then you can easily achieve your goals by having a look at this tracker on a daily basis.
Importance of using body measurement and weight tracker
Losing weight is what we see most people trying. However, people find it very frustrating to lose weight because this process requires consistency and patience. Sometimes, it is not easy to figure out whether you are losing weight or not because the changes in the results are so small.
Anyone who is following a strict diet plan and weight loss routine should use the weight tracker in order to determine whether the diet plan and the exercise routine being followed are paying off or not. The tracker clearly tells how much weight a person has lost in how many days. In this way, the person using the tracker gets a very clear picture of his efforts.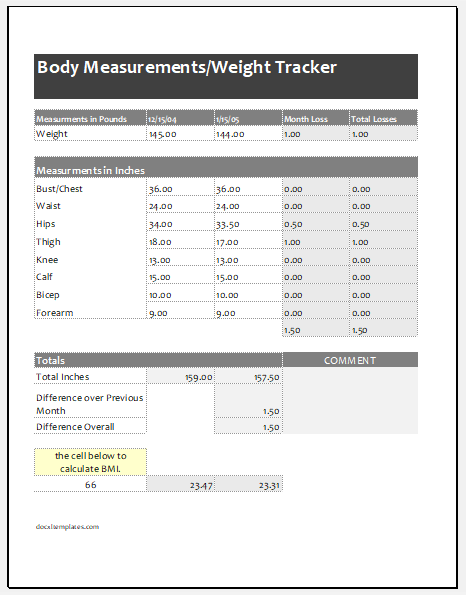 Download
[For Excel: xlsx & Polaris Office] [Size: 8.0 KB]
OTHER OPTIONS
Download
[OpenDocument Spreadsheet .ods] [Size: 30 KB]
---
Benefits of using the tracker?
People prefer using trackers to keep track of their body measurements and weight because it helps them know when they are going out of shape. Here are the common benefits of using the tracker for body measurement and weight
The use of body measurement and weight tracker enables the person to know a lot about his weight and body measurements. Whether a person wants to maintain his current weight and measurements or wants some reduction, the tracker will help him know everything.
If a person is trying to lose weight, the use of trackers will motivate him because it has the ability to keep track of even very small. measurements that are not detectable by a person otherwise.
The tracker also lets a person know the history of improvement he has shown. This lets him know a lot about his efforts for maintaining his body shape.
The tracker also shows the progress of the person over time in the form of a graph. The slanting line of the graph tells a lot about how well a person has been doing in terms of bringing improvements in his body weight and other parameters.
It enables the person to set goals he wants to achieve. The tracker keeps telling the person how far he is from his goals. In this way, the user of the tracker is motivated to get accelerated towards his set goals.
It should be kept in mind that a tracker is not only for those people who are struggling to lose weight. Rather, those who want to want to build muscles or want to maintain their measurements can also track for fruitful results. The tracker can be downloaded on mobile, tablets, and also on a laptop. No matter where you go, you can take the tracker along.