Managers and leaders who plan ahead of time get more work done efficiently. Most businesses do not plan properly as they feel it can be laboring and overwhelming. But scheduling is not only for businesses and startups, but it is also for individuals. Successful businesses should know when to pay and who to pay. This will save the business from any duplicate payments and maintain a good credit rating as well.
Most accomplished businesses and startups prepare their billing schedules at least one or two months in advance. This helps them to manage their cash flows really well. Businesses do not collapse because of making losses. Businesses collapse due to poor cash flows that are a result of poor bill payment schedules.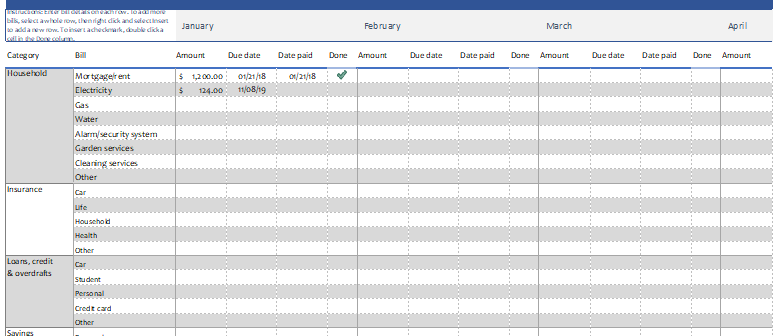 Download
[For Excel: xlsx & Polaris Office] [Size: 8.0 KB]
OTHER OPTIONS
Download
[OpenDocument Spreadsheet .ods] [Size: 30 KB]
---
Scheduling tasks
Bill payment schedule not only gives peace of mind to the companies, but it also makes sure the company is having good financial health.
The bill payment schedule helps you to understand how much money is coming in and how much money is spent every month. This will help to manage the cash flows of the company.
Planning bill payments in advance help to manage the expenses as well. The company can design and implement policies based on its spending.
Companies plan in advance about how much they are ready to spend in the coming months.
Manage the payments
Bill payment schedules are prepared according to the credit limit a vendor is offering. A vendor who has agreed to a two-month payment time can be paid later and a vendor with a credit term of two weeks can be paid earlier. Bill payment schedule will help to manage the payments and avoid any legal actions against the business.
If the payments are not planned well and the bills are overdue, the vendors can even sue the company for not abiding by the payment terms. This will bring major financial loss along with reputational loss as well.
Businesses always have to face surprise expenses. They should have enough funds to meet the unexpected requirements. This is only possible if they are planning their bills in advance. If a major plant or machinery breaks down suddenly, every company should maintain sufficient funds to make up for it.
Better decisions
Bill payment schedule helps to make better decisions as well.  Just by looking at the expense heads, the company can decide if they are overspending on a certain expense.
Profits can definitely help businesses grow. But maintaining cash helps businesses sustain. Collecting payments from debtors on time and delaying payments to the customers but paying within the credit terms can help companies retain more readily available cash.
The growth of any company is dependent on the cash it has, which only makes it very important to know where all the money is going. Accountants plan bill payments and these payments are used in decision-making, analysis, and reporting as well.
Bill schedules help you to be on top of your payments and maintain cordial relationships with the vendors.